We run the hotel business with the basic concept of emphasizing the environment and creating a space that generates a new culture.
We offer you tasty meals in restaurants. For a guest who wants to rest, talk with people, or read a book, we provide a quiet, cozy room, and a library.
For a guest who wants to enjoy a drink, we offer well-serviced lounges and bars.

We are confident that you will be satisfied with our hotel hospitality.
Our Visions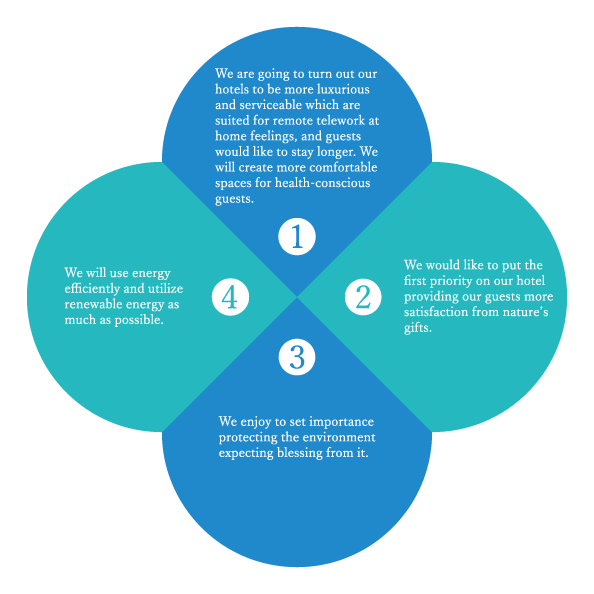 Top Priorities
Serve to satisfy our guests with excellent equipment and hospitality
Maintain and enrich the internet environment
Putting guest safety and security first
Obey the law
Manage the hygiene of the hotel
Prevent accidents or breakdown by checking the defect of buildings and equipment regularly.
Information about operating hotels
ANA Crowne Plaza Hotel Kushiro
You can enjoy the fantastic location of the adjacent Fisherman's Wharf and waterfront. At the same time, you can go to the business and dining districts within a 10-minute walk.
It takes about 13 minutes by walk from JR Kushiro station and about 50 minutes by bus from the adjacent bus terminal to Kushiro Airport.

You can also stand by an observatory in Kushiro Shitsugen National Park (The Kushiro Marshland) about 40 minutes by car.

Within a 2-hour drive, you can visit major sightseeing spots in Eastern Hokkaido. The hotel is suited for business and sightseeing.