Our on the roof of the Tokyo Central Omotesando Building, and had been chosen 200 sheets photovoltaic panels as shown in the photograph "Omotesando power plant". The plant has spawned daily electricity much 50KW, is 13-15 family use. Sunlight is a nuclear power more secure.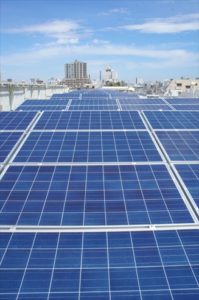 In this way, electricity is made and will be converted and are collected in the power conditioner of the photo.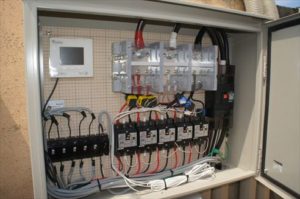 Is this power plant has spawned how much of the electricity, it is displayed in the "Eco-glasses" in the entrance. When we look at this display, the sun will feel that you are giving me a really big benefit to us.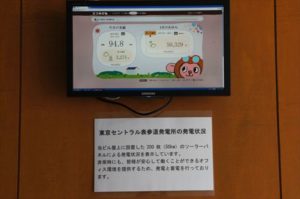 Power by solar power, but usually it has sold to Tokyo Electric Power, as in the event of a disaster such as an earthquake, when the electricity from the power company has been stop, electricity that has been converted from sunlight by the panel large-capacity lithium-ionIt will be stored in the power storage system.
Yes you as in the photo, which is capable of high output of 1.5kVA in the storage system of one 5kWh. This storage system I served five in our company. From left to right, it is called Anne, Beth, Cathy, Dorothy, nicknamed Elley.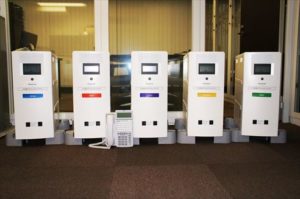 This storage system one, six laptop computers, one router modem hub, single server, UPS1 units, complex machine one, mobile phone charger six, straight tube LED lighting 10 cars at the same time 5 hours you can run.
This storage system is portable, it is possible lending to tenant if needed.
In this way it is to cherish the blessings of nature, we will have the day-to-day effort for the tenants of everyone and employee safety. Thank you to overlap the understanding of everyone.